Who's afraid of a little ghost? It's true, the heat from this tiny pepper can set you ablaze and haunt your dreams! But at Sweet Savina they have perfected a recipe that brings out the amazing flavors of the ghost chile minus the gut punch. It's the perfect combination of sweet and heat!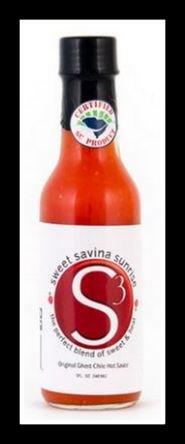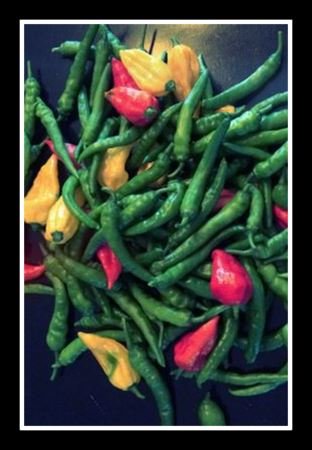 Here's what some of their customers are saying about their hot sauce.
But don't just take their word for it.
You've got to try it!
"As a hot sauce junkie, I've tried all types from all over the world. S3 is by far my favorite because it has great heat with a surprising sweet side." Haynes Payne - Mt. Pleasant, SC

"Love it! Stunningly delicious! Fruity, beautifully spiced and very understated chill heat." James Adedeji - Flintshire, Wales, UK​

"Our patrons absolutely love having S3 as part of the menu" Frank - chef at Acme Low Country kitchen, Isle of Palms, SC

"Growing up in the Caribbean islands of Trinidad and Tobago, hot sauce abounds - we call it pepper or peppa sauce. Almost every household has a Mason jar style of pepper sauce at home, with a spoon dedicated to serving that and that only. The reason for the spoon is because it's not simply a liquid, but the sauce reflects all the ingredients used which includes the peppers, mangos, green plums, onions, etc. This Sweet Savina Sunrise Hot Sauce is the real deal! It takes me back to Trinidad and Tobago the instant I open the bottle. It smells like the peppers were just picked, the chunky pieces of all the ingredients are there, and I feel the need to label a spoon just for its use only! I can't get enough of this product!" Gerard - A true Trini
How They Got Started
"While on medical missions trips to Tanzania, Chris fell in love with the spicy food that the Indians had been bringing there for centuries. The picture to the left is Chris in an Indian restaurant in Dar Es Salaam where it all began. These "hot Fingers", as they call them, started him seeking hotter and even more flavorful chiles, which led to the hottest of all...the Ghost Chile.

After many years of making hot sauce in his kitchen for friends and family, he was encouraged to share it with the masses. It was too good not to! Chris knew he needed a partner to take on this endeavor. He enlisted his sister, Cindy and her expertise in operations, to bring Sweet Savina Sunrise to you!"